In This Section: Cars | Parts | Merchandise | Services & Vendors
The H. H. Franklin Club publishes the information listed below solely as a convenience to its members. No endorsement is made by the Club or Region, no claim or warranty is made as to the accuracy of any of this information. No responsibility is assumed for any transactions resulting from this information.
Franklin Club Literature
Franklin Vintage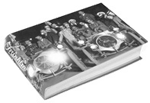 An elegant 400 page book with 650 illustrations and text by Sinclair Powell. All profits go to a Club fund to scan and preserve the Library.

Purchase the book online.
---
Club Literature
The Club has an extensive number of reproduction publications for sale including:
Factory Advertising Material
Instruction Manuals, Parts Catalogs, and other Technical material
H.H. Franklin Club Literature
Historical Documents
Read the full list of Club Publications (PDF). Prices do not include shipping.
To order publications, contact the club librarian at library@franklincar.org and refer to the Call Number from the listings.
Franklin Club Member Advertisement
Franklin Club Merchandise
April 23, 2017. Brass information plate.
FOR SALE. Original brass information plaque. Seeking fair offers for this rare plaque. Contact Mike Silva at durocar@aol.com.


---
The Franklin Club has many great gift items including:
T-shirts
Golf shirts
Hats
Jackets
E-mail Missy Brown at Merchandise@Franklincar.org for more information on which items are available.