In This Section: News | Events | Museums | Midwest Region
Upcoming Events
Social Meetings
Lehigh Valley (PA) Franklinites
The group meets on the 3rd Tuesday of each month near Allentown, PA, for drinks and dinner. Usually attracts 10-15 people. Contact Tim Miller by phone (610-573-8013) or email (marmoset@fast.net) for information.
---
2020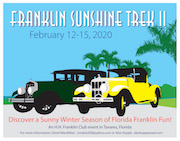 Florida Sunshine Trek II, February 13 to 16, 2020.
Tavares, FL
David MacMillan and Alex Huppé.
Spring 2020 Midwest Meet, June 18 to 20, 2020
Hickory Corners, MI
(Concurrent with Air-Cooled Event.)
51st Franklin Westrek, June 21 to 25, 2020
Prosser, WA
Brenda and Kevin Sullivan. Email kevin@sullivansullutions.com, for further details.
Saturday, July 25 through Saturday, August 1, 2020
Annual Trek, Cazenovia, NY.
Mapletrek 2.0 Perth Ontario. September 9 to 11, 2020.
Contact André Audette
Or Sean O'Meara
2020 Fall Midwest Meet, October
Keweenaw Penninsula, MI
Hosted by Bill and Geri Eby and Mark Kaley