News of the Club
Member Update
February 23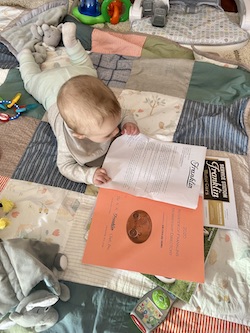 This is Quinn Best, six month old grandson of Debbie and Bob Cornman, looking over his Franklin Club membership welcome package. He has not yet gone Franklin shopping in grandpa's garage; however, that time may come quickly. He seems to be interested in open cars and likes red cars with whitewalls. Quinn is looking forward to attending his first Trek with grandpa.
February 18
Member News: Dave Phillips had successful triple bypass on the 16th. He'd love to hear from the membership. If you'd like to send him a card or note, you can get his address from the club roster, or his email from the "Members Only" section of the website.
---
February 18


Click here to see Jim Eby turn a 23 second 1/4 mile in his 1925 Series 11A Hot Rod Coupe.