Franklin Club Memorabilia For Sale
The H.H. Franklin Club provides 'For Sale' listings as a service to its members and others.
The H. H. Franklin Club publishes the information listed below solely as a convenience to its members. No endorsement is made by the Club or Region, no claim or warranty is made as to the accuracy of any of this information. No responsibility is assumed for any transactions resulting from this information.
---
January 12, 2021.
FOR SALE: Seven Franklin printing plates
Seven printing Franklin plates that I believe may have been for an advertisement for perhaps a car show as one plate says "SEE IT AT THE SHOW" - (photo of the largest plate below - photos of the others available on request) - all are in very good original condition - asking $550 for the lot - e-mail ltclapp@juno.com or call 860-967-1684

Thank you.
Les Clapp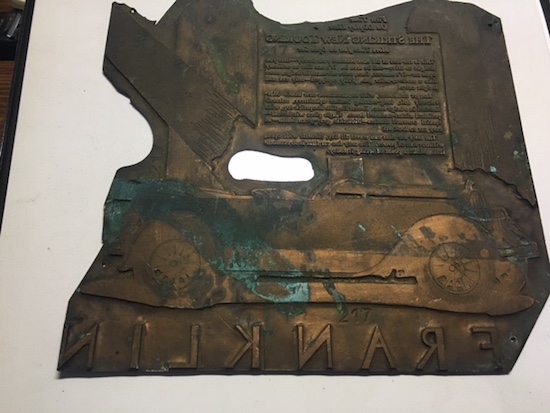 March 2, 2020.
Franklin Dealership Poster.
For Sale: Believed to be Franklin dealership poster. 40" X 53" thick paper stock mounted on linen. $1000. Contact Nicky Brewster 215-731-9200 Email at mail@ibrewster.com